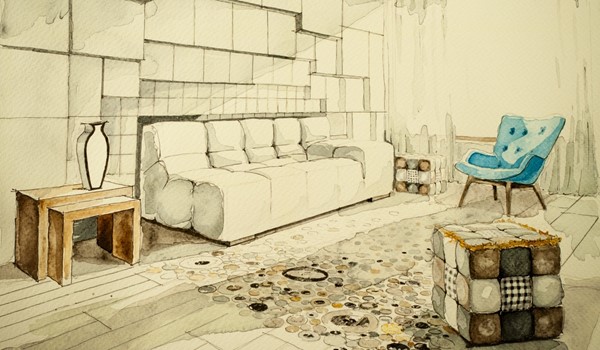 Did you recently move into a new house? Or do you want to change the look and feel of your home? Here are a few low intensive interior design tips you should consider carrying out. You don't have to break the bank, and you can do pretty much everything by yourself.
Add a few potted plants to your kitchen or living areas. They serve as accessories and add some color to your home. On the health side, they help to absorb pollutants from the atmosphere. You also contribute to saving the environment whenever you go green.
Paint your ceiling with a slightly lighter tone than the walls, and you can have any room looking brighter, even with only a few available windows.
If you have small rooms and want them to look larger, that easy. Paint them in softer colors. Dark colors tend to give the illusion of cramped place. Open the room to more natural lighting, and it looks even more substantial.
If you have limited natural lighting in a room because of unavailable windows or blockages, add a few decorative mirrors around the room, especially across from the available windows, as they will add the illusion of more lighting to the area.
Add a throw rug to your hardwood floors for some extra warmth and comfort. Hardwood floors are low maintenance, but they take away the personal feel of a home. Adding a variety of throw rugs around the room brings back that personal touch.
Remove excess furniture in a smaller room to make it look roomier than before. Let's face it; you probably don't need all those chairs. Better to do fewer high-quality furniture. The harder it is to maneuver around a room, the more crowded it is.
Hang your artwork and paintings at the right height. Do you know that the average human eye level is 57 inches from the floor? Well, curators of galleries and museums do, so they hang artwork, so the center of each piece is about 57 to 60 inches from the floor. You should probably borrow a leaf from them.
Always go with the right curtain lengths. Just in case you didn't know, curtains and drapes should go all the way to the floor. If you are purchasing ready-made drapes, measure the curtain-rod-to-floor length and buy that. Or buy a size longer and then hem it up. If you are not sure of the right colors of drapes to pick, take a picture of your walls to the draper and ask for options that match your color scheme.
Before changing your décor to stage your home for sale, ask a professional stager or realtor for advice.